Here's a brief account on the river system of Pakistan and a list of all famous rivers, along with their length, dams, barrages, and important tributaries.
There are 3 river systems in Pakistan:
Indus River System
Internal River System of Balochistan
Coastal River System of Balochistan
Indus River System
Indus River system comprises of Indus river and all its tributaries, which are:
Eastern Tributaries: Rivers Jhelum, Chenab, Ravi, and Sutlej from Punjab
Western Tributaries: Rivers Kabul, Kurram, Tochi from KPK and rivers Gomal and Zhob from Balochistan
Where Rivers Meet?
River Jhelum joins Chenab at Atharhazairi near Trimmu, Jhang
River Ravi joins Chenab at Ahmed pur Sial, Jhang
Chenab joins Sutlej River at Uch/ Panjnad (Bahawalpur) and forms the Panjnad River
River Panjnad joins Indus River at Mithankot (Rajanpur)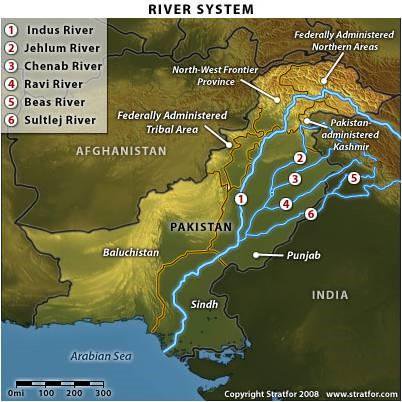 Indus River (3180 km)
Other Names of Indus River
Tibetan river
Sanskrit Sindhu river
Sindhi Sindhu river
Mehran river
River Indus Path
River Indus (3180k long) starts from Lake Manasarovar near mount Kailash in Tibet, and passes through Himalayas & Karakoram (Ladakh) in IOK to GB & Hindu Kush, then through KPK, then makes border between KPK and Punjab, then flows through Punjab, Sindh and ultimately falls into Arabian Sea at Thatha.
Annual Flow
21st largest river in the world in terms of annual water flow
Its annual flow is about 58 cubic miles (243 cubic km)
Its annual flow is twice that of the Nile River and three times that of the Tigris and Euphrates rivers combined.
Famous Dams on Indus River
Tarbela Dam (4888 MW) in Haripur, KPK
Ghazi Barotha Dam (1450 MW) in Attock, Punjab
Satpara Dam in Skardu, GB
[Planned] Diamer Bhasha Dam (4500 MW) in Chilas, GB
[Planned] Kalabagh Dam (3600 MW) in Mainwali
Famous Barrages on Indus River
There are six barrages on Indus River, Guddu, Sukkur, Kotri are in Sindh and Chashma, Taunsa, Kalabagh are in Punjab.
Kotri barrage is also known as Ghulam Muhammad barrage, while Kalabagh barrage is also known as Jinnah barrage.
Chenab River (974 km)
Chenab River Path
The Chenab River (974 km) originates near Bara-lacha la pass in Zanskar Range in Himachal Pardesh state of India by confluence of two rivers, Chandra and Bhaga. It flows through IOK and then through Siwalik Range & Lesser Himalayas and then into Pakistan.
It receives the Ravi river at Ahmed pur Sial and Jhelum River at Trimmu and empties into the Sutlej River at Uch
Famous Barrages & Headworks on Chenab River
Trimmu Barrage in district Jhang on confluence of Jehlum & Chenab
Qadirabad Headworks in district Mandi Bahauddin
Khanki Headworks in district Gujranwala
Marala Headworks in district Sialkot
Jhelum River (725 km)
Jhelum River Path
Verinag spring to Srinagar in IOK è Muzaffarabad in AJK (also receives the Neelum/ Kishanganga River here è Border between AJK and KPK and then enters Punjab è Mangla to Jhelum to Khushab è falls into Chenab at Trimmu
Dams on Jhelum River
Mangla dam (1150 MW) in district Mirpur, AJK
Neelum-Jehlum hydroelectric project (969 MW) in district Muzzafarabad, AJK
Famous Barrages on Jehlum River
Rasul Barrage at district Mandi Bahauddin at 72km downstream of Mangla Dam
Trimmu Barrage in district Jhang on confluence of Jehlum & Chenab
Sutlej River (1450 km)
Sutlej River Path
Lake Rakshastal in Tibet to Himalayan gorges to Himachal Pradesh to Indian Punjab where it receives Beas river to 65 miles (105 km) of the India-Pakistan border to Pakistan and joins Chenab at Uch, Bahawalpur
Features
The longest of the five rivers of historic Punjab
After IWT, its solely Indian
Length in Pakistan is around 550km
Also known as Red River
Ravi River (720 km)
Originates in Himalayas in Himachal Pradesh state to IOK to Punjab in Pakistan to Lahore to Kamalia, an empties into Chenab at Ahmadpur Sial, Jhang
Internal River System of Balochistan
Internal River System of Balochistan includes those rivers that drain into lakes or plains, and not the Indus river or Arabian.
Rivers such as Hamun -e- Mashkel, Hamun Lora, Hamun Murgo, Rakshan drain into inland depressions forming the inland drainage system in Balochistan Plateau.
Some rivers such as River Mula, Bolan and Chakar absorb into the Kachhi Sibi Plain.
Coastal River System of Balochistan
Coastal River System of Balochistan includes those rivers that directly fall into Arabian sea, such as:
Hab river (enters Sindh and then Arabian sea)
Porali river
Nal river
Hingol river (largest river of Baloshistann)
Dasht river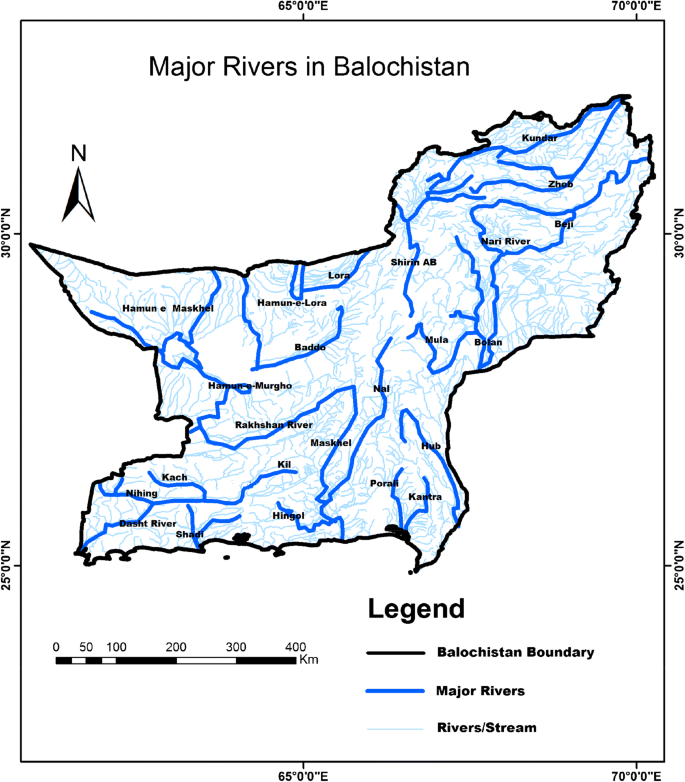 …
Sources
Dawn, Britannica, AIOU Geography
…
Read More
List of Famous Barrages & Headworks of Pakistan
List of Dams, Reservoirs & Hydroelectric Projects of Pakistan
Mountain Ranges of Pakistan: List & Map of All Famous Mountains
…
Follow us:
=> facebook.com/pakistanwatcher/