Dr. Abdul Qadeer Khan was born in the Indian city of Bhopal on 1st April 1936. He and his family migrated to Pakistan in 1947.
Educational Background
Khan attended D. J. Science College in Karachi after graduating from St. Anthony's High School, where he studied physics and mathematics. After that, he passed out from the University of Karachi with a B.Sc. in physical metallurgy in 1960.
He continued his studies overseas, first in West Berlin, Germany, and later in Delft, the Netherlands, where he earned a master's degree in metallurgy in 1967.
After that, Khan graduated from the Catholic University of Leuven in Belgium with a Ph.D. in metallurgical engineering in 1972.
Marriage With Hendrina Reterink
Khan married Hendrina Reterink, a British national, in 1964, who he met in the Netherlands.
She was born in South Africa to Dutch expatriate parents and reared in Northern Rhodesia (now Zambia) before migrating to the Netherlands.
Working as a Scientist in Europe
In the 1970s, Khan moved to the Netherlands to work at the URENCO, one of the top nuclear power facilities in the world.
He soon rose to prominence as a gifted scientist and had even special access to the URENCO's most restricted regions as well as the highly classified information on gas centrifuge technology.
Khan also worked as a researcher for a variety of organizations and in a variety of locations across Europe.
Letter to Zulfiqar Ali Bhutto
Khan was deeply influenced by events in Pakistan, the defeat in the 1971 war with India, and the subsequent loss of the east wing.
Furthermore, India's test of a nuclear device in May 1974 further exacerbated his fears.
On 17th Sept 1974, Khan wrote a letter to Zulfikar Ali Bhutto, offering his assistance in developing an atomic bomb for Pakistan.
Bhutto met Khan in December that year and gave him the green signal.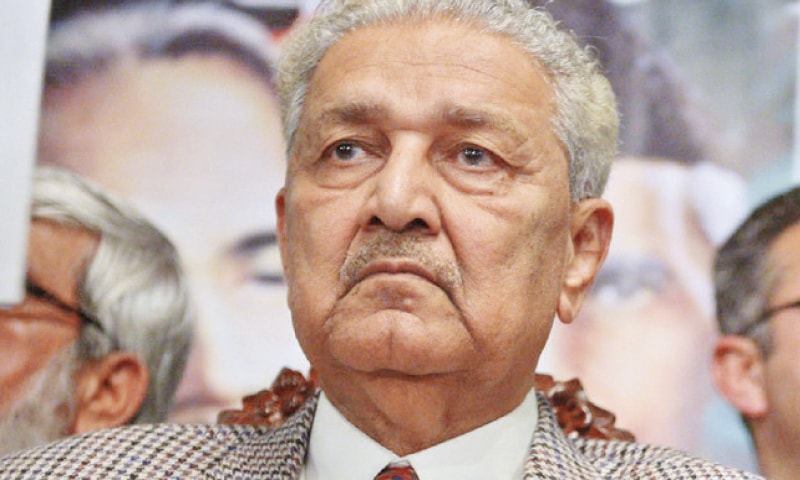 Return to Pakistan
On 15th Dec 1975, Khan returned from the Netherlands to Pakistan, accompanied by his family and allegedly the classified blueprint copies needed for the purpose.
Bhutto provided Khan a base of operations at Kahuta, 50 km southeast of Islamabad, where he along with other nuclear scientists of Pakistan developed prototype centrifuges based on German designs.
Khan also used a supplier's list allegedly taken from the Netherlands to import essential components from British, German, Swiss, and Dutch companies.
By 28 May 1998, Pakistan had become a nuclear power.
Western Investigations
Khan has been identified in a number of Western investigations, including one that shut down Libya's nuclear weapons program and others looking into North Korean activity. 
Khan was placed under house arrest in 2004 after the United States revealed proof to Pakistan's authorities that he had shared intelligence with other countries.
Despite the government's involvement being questioned, Khan confessed in 2004, taking full responsibility for his operations and absolving the military and government of any involvement.
Pardon and House Arrest
President Pervez Musharraf pardoned Khan but placed him under house arrest.
The Pakistani government announced on August 22, 2006, that Khan had been diagnosed with prostate cancer and was undergoing treatment. In February 2009, he was freed from house arrest.
Khan's Thoughts on Pakistan's Nuclear Capability
In a statement published in Newsweek on 16 May 2011, Khan said: "Pakistan's motivation for nuclear weapons arose from a need to prevent "nuclear blackmail" by India. Had Iraq and Libya been nuclear powers, they wouldn't have been destroyed in the way we have seen recently… If (Pakistan) had a [atomic] capability before 1971, we [Pakistanis] would not have lost half of our country after a disgraceful defeat."
Awards and Accolades
Abdul Qadeer Khan has also won plenty of awards, including 45 gold medals, three gold crowns, and two Nishan-i-Imtiaz awards, Pakistan's highest civilian honor.
Despite his international reputation, Khan remains popular among Pakistanis and is regarded as one of the country's most prominent and renowned scientists, as well as a national hero.
Read More: Forget Tom Cruise, Here's The Top Gun You Should Be Talking About
…..
Follow us on our social media channels to read interesting stories, meet inspiring people, explore beautiful places, and learn all about Pakistan!
Facebook: facebook.com/pakistanwatcher/

Twitter: twitter.com/pakistanwatcher

Instagram: instagram.com/pakistanwatcher/