Islamabad: The sports lovers were sad after the cancellation of the New Zealand cricket team tour but they need to realize that it is not the end of the games and that Pakistan has a lot for them.
Islamabad Club has inaugurated a world-class Futsal Ground (6-aside football), with FIFA-approved AstroTurf. It is another floodlit facility.
The first match on this ground was played between the teams of Pakistan Sweet Homes Students.
These students are mostly orphan or single-parent children who are looked after for their proper education and grooming.
The winning team dedicated their trophy to Pakistan Sweet Homes CEO Zamurd Khan. The kids residing in Pakistan Sweet Homes call him Papa Jaani with love for his affection showered to them.
The inaugural match was attended by Cabinet Secretary Sardar Ahmed Nawaz Sakhera, Zamurd Khan, Deputy Commissioner Hamza Shafqat, Assistant Commissioner Awaid Irshad Bhatti, and Islamabad club senior manager Muhammad Nadeem Khan.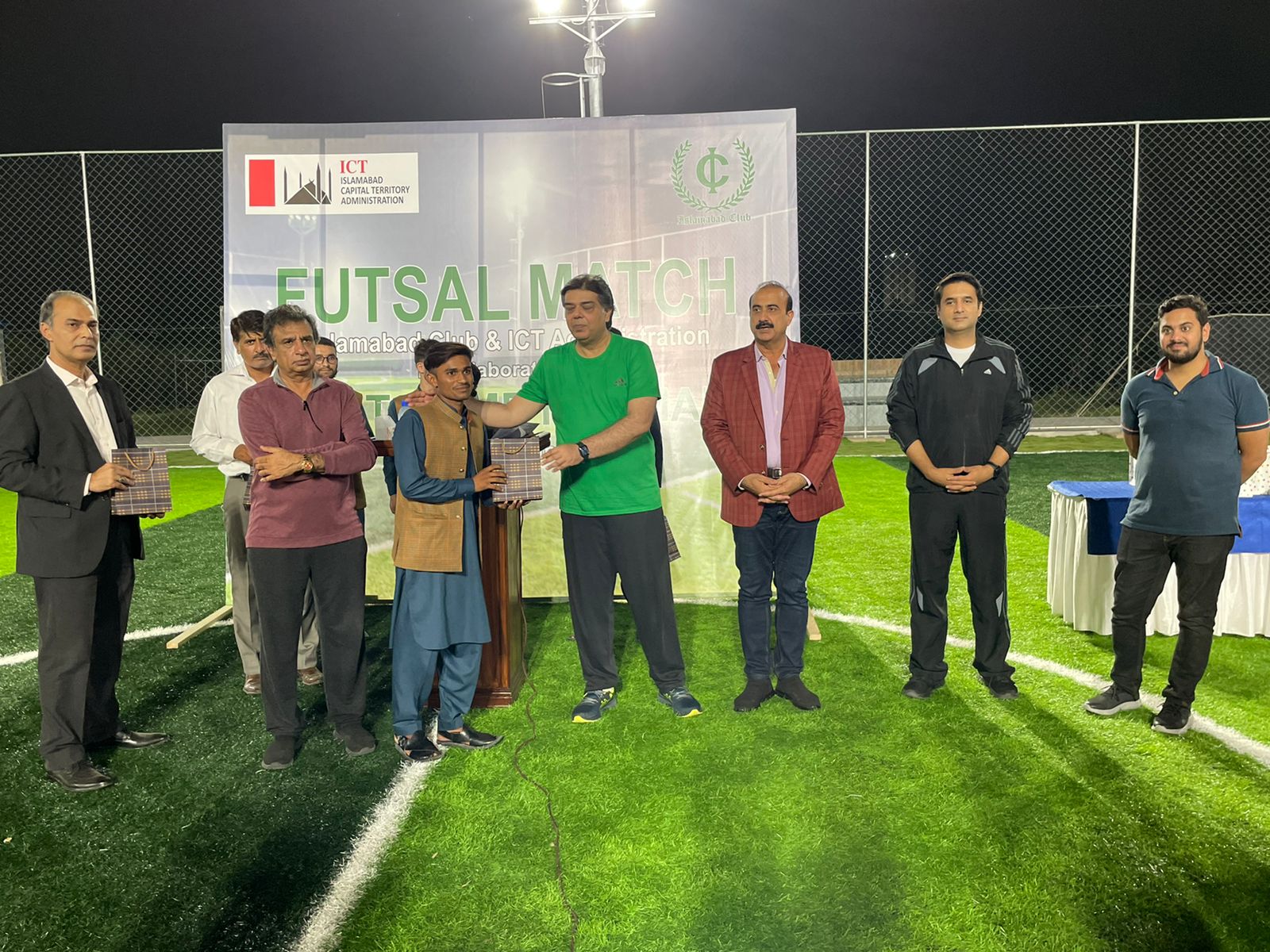 Islamabad Club took initiative as its CSR activities to provide the best sports facilities to the children who hail from disadvantaged backgrounds.
First time ever Islamabad club has opened up its facilities for marginalised sections of society. Awesome initiative by Sir @ansukhera . It was amazing to see such talented kids playing in the newly built sports facilities. 👏 pic.twitter.com/qx6d7vAxZ7

— Muhammed Hamza Shafqaat (@hamzashafqaat) September 29, 2021
The children enjoyed the game a lot and expressed their gratitude to the district administration as well as the administration of the Islamabad Club.
Former Pakistani cricket sensation and commentator Shoaib Akhtar also graced the event with his presence.
Have a glimpse of the inaugural match below:
Last month, Sukhera took to Twitter to announce that an international standard futsal ground of broadcast quality, with FIFA-approved Astroturf, has been built in the federal capital.
Sharing first pics of Islamabad Club's Futsal Ground (6-aside football), with FIFA approved astroturf. Another floodlit facility. Almost ready now!
Youngsters, get ready for some tough but fun games!!! pic.twitter.com/cHiHL7COEV

— Ahmad Nawaz Sukhera (@ansukhera) August 28, 2021